Andante card
The Andante card is only a paper card with an electronic circuit inside, the tickets are electronically loaded on it.
Where to buy? You can buy the Andante at various places. Here are some:
Airport - Tourism Office;
Metro stations and CP Porto - Automatic Vending Machines (MVA's);
Mobility Shop (Cam. Municipal do Porto);
Price: Andante Blue Card - € 0.60.
How to Use - Travel Titles (tickets)
The travel titles (tickets) can be loaded into the Andante at various sites see some:
Andante Shops;
Andante Selling Points;
Metro stations and CP Porto - Automatic Vending Machines (MVA's);
Airport (Posto Tourism);
Mobility Shop (Cam. Municipal do Porto);
CP Ticket office with Andante sales.
There are several types of tickets and prices depend on the number of zones that will be traveled.
This travel document allows you to use the metro, bus or train, and the price of each ticket depends on the path and not the type of transport or the number of boarding.
A ticket allows you to ride at least 1 hour, this travel time increases as the number of areas grows. During this time you can use any service provider belonging to the Andante system as many times as you want within the number of acquired areas.
Example: With a Z4 travel ticket you have unlimited boarding's, at any participating operator of Andante system, during 1h15m. That is, if you make a second validation before completing the 1h15m after the first validation, you will only use one travel ticket. If you validate the 2nd time at 1h14m, you can complete your journey.
Each travel document allows you to travel to the acquired area and all lower areas within the time for which it is valid, that is, with a Z4 title can also stop/travel to the Z2/ 3/4 zones, be sure that every time you start, restart, change transport, you must always validate the Andante.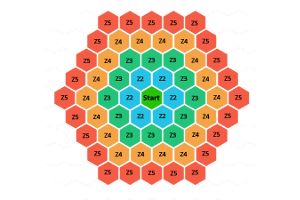 | | | |
| --- | --- | --- |
| Travel Tickets | Maximum Duration | Price |
| Z2 | 1h00m | 1,20€ |
| Z3 | 1h00m | 1,50€ |
| Z4 | 1h15m | 1,85€ |
| Z5 | 1h30m | 2,30€ |
| Z6 | 1h45m | 2,70€ |
| Z7 | 2h00m | 3,05€ |
| Z8 | 2h15m | 3,45€ |
| Z9 | 2h30m | 3,80€ |
| Z10 | 2h45m | 4,20€ |
| Z11 | 3h00m | 4,60€ |
| Z12 | 3h15m | 5,00€ |
How to Use – Validate
The Andante must, ALWAYS, be validated when boarding. When starting the trip, changing line or transport you must validate it, at maximum, 10 minutes before boarding.
If to use the metro or train use existing validators at stations, on buses use validators at the entry.
Approach the Andante to the validator (10 cm), if, lights up a green light the validation is correct, if lights a red light the validation is not correct, see in the reason on the display.
Whenever you experience difficulties, do not be afraid to try to validate more than one time, because you only be "charged" a new travel ticket after a first correct validation and when you finish the maximum time allowed after the 1st validation.
How to use – Balance
To see the balance of your Andante card, just go to an Andante Shop or use the Automatic Vending Machines (MVA's) in the stations . The use of MVA's for this purpose is very simple: just insert the card into the slot and read the message of the balance that appears on the screen.
How to Use – Important Terms of Use
Validation is mandatory! Always validate your Andante at the start of a journey, whenever you change line or transport and whatever your Andante card;
The Andante is rechargeable;
The Andante card can only be used by one person at a time;
As the Andante has an electronic circuit inside, keep it carefully;
Each card can contain, simultaneously, several identical travel tickets. (Example: 10 Z2 tickets);
Preload your round trip travel;
You cannot travel with an empty Andante;
Note: This information, does not dismiss the reading of the Andante Line rules.