PARKING IN PORTO? WHERE SHOULD I PARK IN PORTO?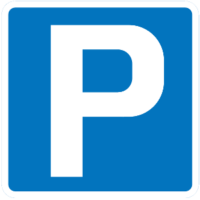 Searching for parking in a European city can become a nightmare, and parking in the city of Porto isn't different. But calm down, we will help you, and you'll become a real expert in finding cheap parking close to the main areas that you should visit in Porto.
As you certainly know, the hourly rate can vary widely depending on where you want to park your car, whether it is a parking lot managed by public or private entities, indoors or outdoors, with or without surveillance. Therefore, the hourly parking rates, in the city of Porto, are around 0.8€/hour and 2.60€/hour.
BUT WHERE SHOULD I PARK IN PORTO?
We will help you answer that question, but first of all, our suggestion is to always use the Porto metro, it is a great way to get around, easy, cheap and with stations near the main places to visit in Porto. Secondly, you need to know which area you want to visit.
Ok, let's go!
The cheapest parking lots are the ones managed or owned by the Porto City Hall (CMP), but just because they are cheaper, doesn't mean they are in "far from everything" zones, quite the contrary, we will tell you some that are in fantastic areas of Porto and from where you can visit the city calmly.
Aliados - The best parking lot without a single doubt is the Trindade Park that belongs to the Porto City Hall (CMP), 0.8€ 1st hour, you won't find cheaper parks in the area. It is at Rua Fernandes Tomás, it is open from Monday to Sunday all day long, and it has surveillance, automatic payment machine and closed circuit television (CCTV). (Porto Parking - 1)
Batalha - You have the Duque de Loulé car park, also managed by CMP, Rua Arnaldo Gama, 0.8€/hour, it is an outdoor park, but it has surveillance, CCTV, electric vehicle loading and it is open seven days a week all day long. If you park your car in this parking lot you will see the fantastic place that it is to take some beautiful photos. If you go there on Sunday there is a market-fair very close, the well-known "bird market-fair ". (Porto Parking - 2)
Ribeira - The Alfandega Park, which also belongs to the CMP, 1.00€/hour, is excellent when you visit the Ribeira area or go to the other side of the Douro River to visit the Port wine cellars. Attention, you have to make the payment with cash because there are not automatic payment machines, it is an outdoor park, but it has surveillance, it stays open from Monday to Sunday all day long. (Porto Parking- 3)
Boavista - Do you want to go to the Casa da Música, Bom Sucesso Market, or just stroll through the Boavista area? Unfortunately, here you won't have parking lots managed by CMP, but you have a parking area (street), Rua de Agramonte 0.5€/hour is the cheapest street parking. One of the biggest problems of on-street parking is that is limited to 2h, so each 2h you will need to put another coin. (Porto Parking - 4)
Foz - Are you going to visit Porto with children? In case you go to the City Park, don't worry, you will have free parking. If you don't mind walking a little bit, leave the car there and go to the Foz area. If you prefer, you have a Park near the São Francisco Fort (Castelo do Queijo). (Porto Parking - 5 e 6)
Serralves Foundation -There are many free parking spaces in the surrounding streets. (Porto Parking - 7)
Matosinhos – Near the town of Porto, it is well known for its Seafood restaurants, there are many streets with free parking spaces, but alternatively, you have a Private Park, on Rua de Tomaz Ribeiro - 1.15 € / hour, which is very close to most Seafood restaurants in Matosinhos, and has closed circuit tv (CCTV), automatic payment machine and is open seven days a week all day long. You also have the Norton de Matos Parking, 0.5€/hour and only paid until the 4th hour, ideal if you want to stroll along the Matosinhos seaside or go to the beach, it has surveillance, CCTV, automatic payment and is open every day from 8h00 to 24h00 (Matosinhos Parking - 1 and 2)
Vila Nova de Gaia - if you are going to visit the Port Wine Cellars, or the riverside area of Vila Nova de Gaia you will have 3 car parks nearby which we advise, due to their proximity to these places, the first one is on General Torres Street, 1.25€/hour; another at Guilherme Gomes Fernandes Street, €1.40/hour and the last one at Ramos Pinto Avenue, €1.6 /hour. All of them with CCTV, automatic payment, and are open 24h every day. (Vila Nova de Gaia - 1, 2 and 3)
TIPS:
In Porto, street parking is only paid on working days and Saturdays until 16h00.