The wine cellars of Porto date back to the 17th century when English merchants began importing Port wine and storing it in the city's cellars. Over the centuries, these cellars have expanded and improved, and today they house some of the world's most famous Port wine brands.
The Port wine cellars are located on the left bank of the Douro River in the region of Vila Nova de Gaia.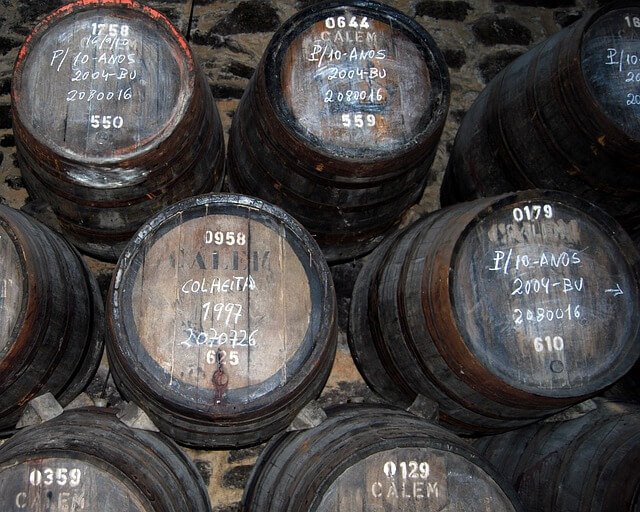 The Port wine cellars are a popular destination for wine lovers and tourists in general. Many of the cellars offer guided tours and wine tastings, allowing visitors to learn about the history of Port wine and taste some of the best wines in the region.
Among the oldest Port wine cellars is Ferreira, founded in 1751. Other historic cellars include Sandeman, Taylor's, and Graham's.
Port Wine Cellars:
This cellar was founded in 1820 by the two brothers William and John Graham. These well-equipped cellars offer magnificent views of the old town, as well as the Douro River and even Vila Nova de Gaia. Several tours are part of the program, including the opportunity to taste some of Graham's first class wines.
Services available: visit to cellars, wine tasting and sale, rental of event space, lounge & restaurant.
Public opening hours from April to October are between 9.30 a.m and 6 p.m, and from November to March between 9:30 am and 5:30 pm.
The cellar is located at Rua do Agro, 141, 4400-281, Vila Nova de Gaia. Note: Visits without prior appointment are not allowed. Tel.: +351 223 776 484
Founded in 1981 by a member of the Graham family, this cellar is a little smaller than the others, which brings a warm feeling and makes it a beautiful option for those looking for a more familiar experience. Churchill's also has a "VIP" room with a magnificent view of the Douro River which, by prior appointment, allows visitors to organize lunches, dinners or wine tastings.
Its services include: a VIP room available to organize lunches, dinners or private tastings, visit of cellars, wine tasting and sale.
Churchill cellars are open year-round from Monday to Saturday between 9:30 a.m. and 6:00 p.m.
Address: Rua da Fonte Nova 5, 4400-156 Vila Nova de Gaia. Tel .: +351 223 746 660
Here the Port Wine results of the acquisition of knowledge and tradition that dates back to the time when the Douro Valley was not yet a demarcated region. The company J. W. Burmester was founded in 1750, beginning the production of wines of excellence, a tradition that continues to this day.
Services available: Sales and wine tasting, terrace, restaurant and rental of space.
Opening hours are from 10:00 am to 7:00 pm from April to October and the rest of the year is only possible with reservation.
Address: Largo da Ponte Luis I, 1, 4400-111 Vila Nova de Gaia. Tel .: +351 223 746 660
This majestic 1811 granite building faces the historic center of Porto and overlooks the Douro River. The Sandeman House invites you to a full of mystery experience in a traditional and cosmopolitan atmosphere. These wine cellars will take you back to London at the turn of the 18th century, when George Sandeman, a young Scot, decided to take the risk and venture into the wine trade.
Sandeman's offers visitors personalized information based on their languages as well as an image gallery, wine tasting and sale, space rental and terrace service.
The opening hours between March and October are from 10h00-12h30 and from 14h00-18h00. Between November and February: 09h30-12h30 and 14h00-17h30.
Location: Largo de Miguel Bombarda, 3, 4400-222 Vila Nova de Gaia. Tel .: +351 223 740 534 / + 351 223 740 533 / + 351 223 740 535
Founded in 1859 by António Alves Cálem, Porto Cálem belonged to the same family for four generations before moving to the hands of Sogevinus SGPS, SA in 1998. A visit to Cálem begins with the museum, followed by the cellars, where the visitor receives an overview of the world's oldest demarcated region – the Douro Demarcated Region. The entire process of producing port wine, from harvesting to bottling and aging, is also explained. The visit ends with a wine tasting, as well as the opportunity to browse the shop, which offers an excellent selection of quality wines from the Port of Cálem.
The services include sale and proof of wines, rental of spaces and fado shows.
The opening hours between April and October are every day from 10am to 6pm and from November to March from 10am to 5.30pm.
The place is located at Avenida Diogo Leite, 344, 4400-111 Vila Nova de Gaia. Tel .: +351 223 746 660
The house of Ferreira is rich in tradition and not only played, but still plays an important role in the history of Port Wine. It was founded by a family of producers, in the mid-nineteenth century. Dona Antónia Adelaide Ferreira contributed significantly to the consolidation of the brand. A lady with a great personality, at a time when women would have to fight more than men to take the stage, became a symbol of inspiration to face the most diverse adversities. Caves Ferreira invites you to discover a brand that has existed for over 250 years, which is a symbol of the highest quality and whose heart and soul are Portuguese.
Ferreira cellars are open throughout the year from 10:00 a.m. to 2:00 p.m. and from 2:00 p.m. to 6:00 p.m. and offer services such as wine tasting and sale and rental of spaces.
Address: Av. Ramos Pinto, 70 4400-266 Vila Nova de Gaia. Tel .: +351 223 746 106 / + 351 223 746 107 / + 351 223 746 108
Founded in the first half of the eighteenth century by the family of the same name, it was not before a Baron named Joseph James Forrester grab the rudder that this company received its well-deserved notoriety. Especially captivating in this cellar is its commitment to simplicity, which makes visit a relaxed experience, without ever losing well-structured and informative quality. In the end the visitor may experience wine tasting at the calming sound of water falling into the tank.
Offley Forrester offers the following services: wine tasting and sale and rental of space.
Your opening times between March and October are between 10 am – 12:30 pm and 2 pm – 6 pm. From November to April visits are possible only under booking.
Location: Rua do Choupelo, 54 4400-174 Vila Nova de Gaia. Tel .: +351 223 743 852
---
The Ramos pinto cellars were founded in 1880, entered the Brazilian market in the early 20th century and quickly became responsible for half the wine exported to South America. In the museum area, under prior appointment in the visitor center, visitors can enjoy a remarkable collection of art.
In addition to the wine tasting and sale and rental of spaces, Ramos Pinto offers, under prior appointment, the possibility of contemplating a collection of objects of art or, even, a historical archive on the production and export of wines.
Hours: all year round from 10:00 a.m. to 6:00 p.m. except Christmas Day, Easter and January 1st.
Address: Avenida de Ramos Pinto, 400, 4400-266 Vila Nova de Gaia. Tel .: +351 936809283
Taylor's was inaugurated in 1692 by Job Bearsley, an English merchant. It has been in the possession and under the administration of the same family ever since. A visit to Taylor's is a must. From the terrace you can enjoy a unique panoramic view over the city of Porto.
Services available in this basement include: Guided tours and wine tastings, Port wine and chocolate or cheese tasting, Quinta de Vargellas olive oil tasting, Pre-Phylloxeral wine tasting, Vintage Port wine opening with tongs, Port Wine workshops, Wine shop, Delicious meals at Barão Fladgate restaurant.
Opening hours between December and March: 10h00-18h30. Between November and April: 10:00 a.m. to 8:00 p.m. Closing only on 25 December.
Location: Rua do Choupelo, 250, 4400-088 Vila Nova de Gaia. Tel .: +351 223 772 956
The prestige of the Croft brand and it's wines is due, in large part, to the ownership of one of the most beautiful estates of the Douro Valley, the famous Quinta da Roêda. There are several services available that include, but are not limited to a guided tour and wine tasting, Porto wine and chocolate tasting classes, special programs with fado, sierra cheese and vintage croft, as well as Port wine workshops.
Croft Caves offer visitors the possibility of wine and chocolate tastings, Vintage's opening with fire, special fado programs and Port Wine workshops.
It is open every day of the year, with the exception of 25.12 between 10.00 and 18.00.
Address: Rua Barão de Forrester, 412, 4400-034 Vila Nova de Gaia. Tel .: +351 220 109 825
The size and capacity of the Cockburns are, in a word, exemplary. An impressive number of 4,250 wine casks gives an idea of the scale of Cockburns Wine Cellars, as well as the fact that this cellar is the only one with its own team of coopers. The impressive scale of Cockburn's allows storing a large amount of aging Special Reserve, so can develop its unique style and perfect balance, acquired by more time of aging in wood than any other port wine reserve.
Services available: wine tasting and sale.
Schedule from April to October: 09: 30-18: 00. From November to March: 09h30-17h30.
It is located at Serpa Pinto Street, 346 4400-307 Vila Nova de Gaia. Tel .: +351 913 007 950
The caves of Real Companhia Velha, also known in English by "Royal Oporto Wine Company", were founded in 1756, which makes it the oldest producer and exporter of Porto wines. With an area of more than 100,000m2, these centennial cellars house a wide selection of Tawny Port Wines. Experience and tradition make your visit unforgettable.
The cellars put at your disposal the services: Realization of ports of honor, presentation of products, rental of spaces and tasting and sale of wine.
The cellars are open to the public every day between 10:00 am and 5:00 pm and are located at Azevedo Magalhães Street, 314, 4430-022 Vila Nova de Gaia. Tel .: +351 223 775 194
Founded in the mid-18th century by a wine merchant named Ostende Rozès, it was under the leadership of this gentleman that this company dedicated itself to the sale and marketing of wine in France, especially in Bordeaux. As part of the first group of Port wine exporters to settle in the Douro Demarcated Region, Rozès consolidated its presence in the national and international market. Its wine is masterfully produced in the Douro Valley, thanks to the careful control of each stage, from the vineyards to the aging and bottling.
Services available are the visit to the cellars as well as sale and tasting of wines.
The cellars are open all year from Monday to Friday between 10:00 a.m. to 12:00 p.m. and from 1.30 p.m. to 6:30 p.m.
Location: Rua de Cândido dos Reis, 526-532, 4400-070 Vila Nova de Gaia. Tel .: +351 223 771 680
---
SUGGESTION:
Try a Port's wine degustation.