Carmo Church

★★★✮☆
Baroque / Rococo style, was built in the second half of the XVIII century, between 1756 and 1768.
The side facade of the Carmo Church is covered by a great panel of tiles, with scenes depicting the founding of the Carmelite Order and Mount Carmel.
The front facade, richly crafted, has a rectangular portal, flanked by two religious sculptures of the prophets Elijah and Elisha executed in Italy.
Location: Rua do Carmo, 4050-011 Porto Portugal.
Opening hours: Monday, Wednesday 8:00-12:00/13:00-18:00; Tuesday, Thursday 09:00-18:00; Friday 09:00 - 17:30; Saturday 09:00-16:00; Sunday 09:00-13:30; Public Holidays 09:00-12:00.
Prices: Free.
How to get there: 10 min walk from Aliados Avenue.
Suggestion:
Nice visit, near Clérigos Tower and Lello Bookshop.
Accommodation Suggestions
(near this site):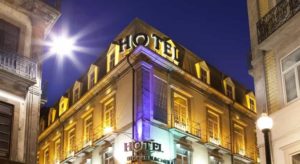 Hotel Internacional Porto ★★★
One of the more preferred option at Porto. The Hotel Internacional Porto it is in a nineteenth century building in the historic center of Porto and has a traditional Portuguese décor and an award-winning restaurant serving local cuisine. The winery has a cozy bar. Rooms at the Hotel Internacional Porto have floor to ceiling windows.