ALIADOS AVENUE

★★★★★
The City's "welcome hall", where Porto citizens celebrate special events. Buildings in granite, many of them crowned with skylights, domes, and spires. The Aliados Avenue, with its imposing buildings, is the heart of the city and where the portuenses celebrate the great deeds of the city and the country. This avenue emanates the spirit of mercantile and bourgeois city of the XIX century.
For many is considered the most democratic avenue of the city where all social classes are equal, it is the stage of the people and where they express their joys and indignities.
Here are several places where you can relax and contemplate the beauty of this avenue, to highlight the Guarany coffee shop founded in 1933. Another place of interest and shrouded in some controversy at the time of recovery/renovation is the Café Imperial, today a restaurant of a large fast-food chain, is considered the most beautiful restaurant in the world of this group.
The majestic town hall lies to the north with its elegant granite facade is another place where you should go. During your visit be sure to take a picture with the most famous ardina (newsboy) of the city. Near the Aliados Avenue, you can also visit the São Bento train station and Clérigos Tower the ex-libris of the city.
Location: Avenida dos Aliados, 4000-o64 Porto Portugal.
Opening hours: 24h/7.
Prices: Free.
How to get there: n.d.
SUGGESTION:
On the Aliados Avenue, the most important thing is not to rush and enjoy the beauty of its buildings, sit in a street coffee and just enjoy the surroundings and the day-to-day city life.
WHAT TO SEE IN PORTO:
STREETS AND SQUARES
Accommodation Suggestions
(near this site):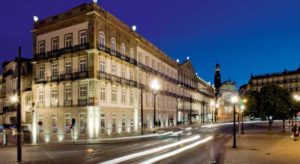 InterContinental Porto - Palácio das Cardosas ★★★★★