Santo Ildefonso Church

★★★☆☆
The building, of Santo Ildefonso Church, began in 1709 and ended (initially without the bell towers) in 1730. In 1739 the two bell towers were completed.
Inside it is worth highlighting:
The altarpiece with baroque and rococo carvings from the first half of the XVIII century (1745), designed by Nasoni and installed and built by architect Miguel Francisco da Silva.;
Eight beautiful stained glass windows, Master Isolino Vaz, dated 1967;
Two large screens of 5.80 x 4.30 meters suspended on the side walls, in the middle of the church, painted by Domingos Teixeira Barreto, between 1785 and 1792. These paintings, framed within the Baroque style, were unfortunately badly restored (in 1925) and not demonstrate its real artistic value (we look forward to see the returning of these masterpieces);
In the choir, it is installed a beautiful tubes organ, dated 1811;
On the outside its 11,000 tiles by Jorge Colaça (the same author of the tiles from the S. Bento train station, Porto), represent scenes from the life of St. Ildefonso and the Gospel and are dated from1931.
Location: Praça da Batalha, 4000-101 Porto Portugal.
Opening hours: Monday: 15:00 às 18:30h. Tuesday to Saturday: 9:00 to 12:00 and 15:00 to 18:30h. Sunday: 9:00 to 13:00 and 18:00 to 20:00h.
Prices: Free.
How to get there: 2 min walk from Aliados Avenue.
Suggestion:
Visit this beautiful Church, in the Batalha Square.
Accommodation Suggestions
(near this site):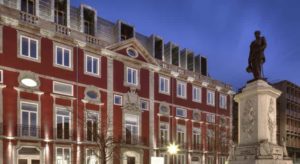 NH Collection Porto Batalha ★★★★
The sophisticated NH Collection Porto Batalha is a 4 star hotel located in the heart of Porto, some of the rooms are elegantly furnished, offers access to an indoor swimming pool to its guests and free Wi-Fi in all facilities.