RIBEIRA SQUARE & DOURO RIVER

★★★★★
The Douro River is strongly connected to the city of Porto, formerly, this was the main route for transport of the Port wine barrels, which came in Rabelo boats from the upper Douro to the cellars in Vila Nova de Gaia where they are stored.
Today, due to a strong urban regeneration, the union between the city and the Douro River is becoming stronger, emerging in a unique complicity.
The Douro River has its own magic, especially when night falls over the city. When visiting the Ribeira square, considered as one of the oldest town squares of the city and also known as the Cube Square, you will enjoy a unique experience and a magnificent view of the Douro River and the Dom Luís I bridge (work designed by Théophile Seyrig).
Location: Praça da Ribeira, 4050-513 Porto Portugal.
Opening hours: 24h/7 (recommendation: 10h00 to 24h00).
Prices: Free.
How to get there: 15 min walk from Aliados Avenue.
SUGGESTION:
Relax in one of the numerous coffee shops, little bars, or taverns that exist, drink a Port and appreciate the view over the Douro River.
WHAT TO SEE IN PORTO:
STREETS AND SQUARES
Accommodation Suggestions
(near this site):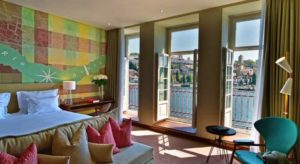 Pestana Vintage Porto Hotel & World Heritage Site ★★★★