Bom Sucesso Market

★★★☆☆
The Bom Sucesso Market was built in 1952, here were sold various types of products (meat, fish, vegetables, ...).
Currently, due to rehabilitation, presents a new concept more adequate to today days, its old stands are now gastronomic spaces filled with offers from the most varied regions of Portugal.
Here you can taste from savory, cheese, traditional cakes, Portuguese wines and more.
Location: Praça Bom Sucesso, 74-90, 4150-146 Porto Portugal.
Opening hours: Sunday to Thursday - 10:00 to 23H00; Friday and Saturday - 10:00 to 24H00; Closes 25 December, 1 January.
Prices: Free.
How to get there: By Metro: Trindade Station (Lines A, B, C, E) and get out at Casa da Musica Station. 5 min walk to Bom Sucesso Market.
Our suggestion:
If you go visit the Casa da Música (Music house), go there to eat.
Accommodation Suggestions
(near this site):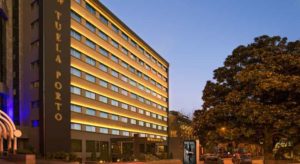 HF Tuela Porto ★★★
The HF Tuela Porto is in the Boavista area, near Casa da Música, Mercado Bom Sucesso and more. The Casa da Musica Metro station is just a 5 minutes walk giving you easy access to the airport and the city.