PORTO THEATERS AND AUDITORIUMS
Find out which are the most emblematic Theaters & Auditoriums of the city, visit and watch a show. Discover our suggestions for "What visit in Porto - Porto Theaters and Auditoriums":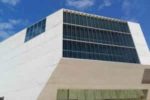 MUSIC HOUSE ★★★★★ The Music House (Casa da Música) is the latest and most modern concert hall in Porto. Annually hundreds of performances of renowned orchestras and musicians are held here. Designed by architect Rem Koolhaas and considered one of his masterpieces. The contemporary and modern design makes the Music ...
Read More