Trindade Church

★★★☆☆
The Trindade Church was built during the XIX century.
In its Neoclassical style facade , we highlight the Coat of Celestial Order and the two statues at either end, figuring St John of Matha and St. Felix of Valois.
Inside, we highlight its beautiful organ, the altars decorated with gold leaf and the large painting representing the Baptism of Christ.
Location: Largo da Trindade, 115, 4000-539 Porto Portugal.
Opening hours: Monday to Friday 08:00-18:00; Saturday 7:30-12:00/14:30-18:00; Sunday and Religious Holidays 09:00-13:00 /16:00-19:00
Prices: Free.
How to get there: 2 min walk from Aliados Avenue.
Suggestion:
Nice visit, near Aliados Avenue behind the Porto city hall.
Accommodation Suggestions
(near this site):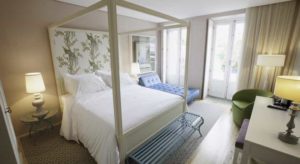 In Porto Gallery Guesthouse
The In Porto Gallery Guesthouse is located in the center of Porto, a few meters from Aliados Avenue. It housed in a completely renovated historic building. The rooms are individually decorated inspired by the romantic art. In the morning a continental breakfast is served in the garden or the covered terrace.